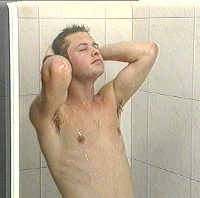 Your hair is your "crowning glory". It can define your image and sense of style, and is a mirror of your health. Unfortunately is often harshly treated, by perming, blow-drying, spraying, crimping and dyeing.
In fact the ideal image of strong, shining, glossy and bouncing hair is often only seen in magazines or commercials for those numerous hair products.
It is not necessary to spend many dollars on a different hair care range for each and every family member. You can care for your hair and your whole family's, naturally, simply and cost effectively by using the nourishing powers of essential oils.
A natural, non-fragranced, non-detergent shampoo and conditioner base should be purchased. By adding 1-2% of essential oil corresponding to your hair type, a whole range of shampoos and conditioners can be mixed into small discarded hair product bottles and the individual needs of each family member can be catered for very effectively and economically.
Suggested Oils for Hair Types

DRY HAIR
Rosemary, Sandalwood, Ylang Ylang, Lavender, Geranium, Frankincense, Rosewood, Patchouli
OILY HAIR
Basil, Eucalyptus, Cedarwood, Clary Sage, Lemongrass, Cypress, Rosemary, Juniper, Bergamot
NORMAL HAIR
Geranium, Lemon, Lemongrass, Rosemary, Rosewood, Clary Sage, Cedarwood
DANDRUFF
Cedarwood, Clary Sage, Eucalyptus, Patchouli, Rosemary, Tea Tree, Lavender
BRITTLE/DAMAGED
Sandalwood, Geranium, Frankincense, Rosewood, Lavender, Patchouli, Evening Primrose

Brittle, Damaged Hair will benefit from a scalp treatment. Try this remedy:
l0ml Jojoba
5 drops of combination of dry hair type oils.
Warm the blended oils in a ramekin or dish over your oilwarmer. Massage into the scalp. Saturate some cotton wool and pull through to ends of hair. Wrap in a hot towel. Leave for 15 minutes and then shampoo. (Work shampoo into dry hair first to loosen oil).

After any shampoo and conditioning treatment, fill a large jug with pure water and add 6 drops of essential oil to suit your hair colour, to help bring out your hair's natural highlights, and leave your hair smelling divine. Or try rinsing in cider vinegar or beer to restore PH balance to hair.