Massage:
Massage is an effective way of receiving the therapeutic benefits of Essential oils, as the oils are absorbed into a large area of the skin, while at the same time the muscles are being relaxed which helps move the oil through the body.Add to that, the comforting effect of touch, and you can see the importance of this means of application.
Massage is a pleasurable experience to share with a friend. However this not always convenient or possible, so it is important not to overlook the benefits of self massage.
Dilutions: 50mls (10 teaspoons) Carrier oil to 25 drops of Essential oil blend or
10mls (2 teaspoons) Carrier oil to 5 drops of Essential oil blend
Children dosage: 15mls Carrier oil to 2 drops Essential oil.
---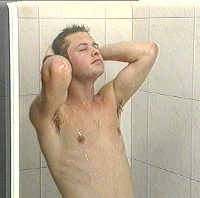 Inhalation:
Inhalations using essential oils are particularly effective for relief of mild upper respiratory problems.
Steam Inhalation:
This is most beneficial for relieving symptoms of chest and throat infections.
Method and Dilution:
Fill a large stainless steel, glass or ceramic bowl with hot water. Add 2-3 drops of essential oils. (Children 1 drop only).
Lean over bowl, covering head with a towel and breathe deeply for 3-5 minutes.

Caution:
Always keep eyes closed. Asthmatics should approach this method with caution, as concentrated steam can cause choking. Never use during an attack. Only use as a preventative measure.
Tissue:
For another effect, use 2-4 drops of essential oil on a tissue or hankie (1 drop for children) and inhale several times when required. Carry with you to help you get through the day.
Pillow:
To benefit you whilst you sleep, 1 drop on either side of your pillow. Keep well away from your eyes.
---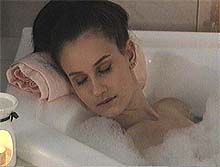 Aromatic Bath:
A relaxing treat with a double benefit. The oils are absorbed through your skin whilst also being inhaled.
The aromatic bath can be effective to stimulate and energise, relax and sedate and enhance sensuality.
Method:
Close all doors and windows. Lie back, place towel dipped in bath water and squeezed out, under your neck, breathe deeply and ENJOY for 10 to 20 minutes.
Dilution:
6-8 drops of blend of essential oils to suit your self. (2 drops for children).
Add to bath water (not too hot) immediately prior to immersing. Agitate vigorously to disperse oil. To nourish dry skin, add essential oil blend to 5ml (1 teaspoon) of carrier oil.
Footbath:
The benefits of a foot bath are enormous especially when a full bath is not available.
(When living in a flat or unit, and when travelling) as oils are absorbed very effectively through the feet.
Method and Dilution:
Fill a large non-plastic bowl with warm water. Add a layer of marbles, and 4-6 drops of essential oil blend. (2 drops for children). Agitate water. As you soak your feet and relax, roll your feet across the marbles as an extra benefit.
---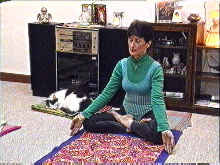 Vaporisation:
When essential oils are gently heated using a ceramic oil warmer, these highly volatile oils turn from liquid to vapour (it is esential oil vapour you smell when you come close to a fragrant flower).
These vapours help to keep the atmosphere germ free, and simply by breathing, you can receive the therapeutic effects of the oils, whilst you go about your daily routine. Often you will not even be aware of the aroma at all, but they will still be quietly doing their job.
Dilution:
Fill the saucer with warm water and add 6-8 drops of your blend. Light the candle beneath. Note that the water may evaporate after a few hours and needs to be refilled. Place away from drafts and well out of reach of children.
Caution:
Do not leave on unattended or whilst sleeping.
---
Compresses:
A cold or warm compress using essential oils, is a wonderful way to soothe aches, cramps, swelling and sprains. A warm compress can also become part of your daily skin care regime.
Dilution:
Fill a non-plastic bowl or hand basin with water and add 6-8 drops of essential oil blend. (2drops for children). Agitate water vigorously. Fold a clean towel or piece of cheese cloth, immerse cloth in water, gently squeeze out excess water and place on required area.